Why Use Our Document Storage & Archiving Service
We offer an end to end document storage and retrieval system for your business records and guarantee an efficient, secure and cost-effective service.
You can order your documents by email and have them delivered quickly. We fully understand and adhere to all legislation regarding document retention and furthermore, will advise you when they can be destroyed.
Then the choice is simply up to you whether to continue with document storage or use our secure shredding service.
Our location in the centre of Glasgow and professional customer service team ensures your critical archive material is collected, stored and delivered to your exact requirements.
No need to book an appointment, if we are open, then please come in and see us!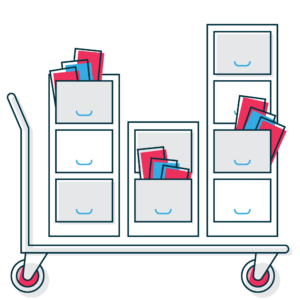 Document Shredding and Data Destruction
In addition to our document storage services we also a shredding service when they are no longer needed. In addition to sensitive paper documents, we can also handle hard disks and media drives. Click here to find out more about our secure document shredding service.
Benefits of Archiving With Us
Confidential shredding & management to minimise box count and cost
Clear & transparent pricing
Order today for delivery tomorrow
Rushbox delivery
Secure environment
Retrieval – Fast Delivery
Collected boxes/files are tracked & indexed
Boxes then tracked to racking location in our warehouse
Documents can then be either returned, scanned or confidentially deleted
Reasons for Offsite Document Storage
Lower your costs
Storing paper documents onsite can cost quite a lot of money. Due to the retention requirements set by law, more documents will undoubtedly mount up over time, putting a squeeze on space around the office, and it becomes labour intensive as more people are needed to sift through files to find what's needed.
It's more efficient
Offsite document storage can allow your team can focus on the tasks which are most important to the business, cutting out the unnecessary time that comes with finding, archiving and generally managing documents onsite.
They'll be more secure
Unless you have a vault chances are your documents are safer with us. Our building is an old tobacco warehouse with lots of security doors and cages. It's solid and secure. Safety and confidentiality of important records is more important than ever before, that's why we have a dedicated document storage team looking after your files, so they are in good hands.
We offer easy retrieval
You can get files back from us very quickly. We can take file ordering by email or over the phone and have them delivered to you the very next day. We collect documents too and always work deliveries/collections to suit your schedule as much as possible. When you have finished with the files or boxes we will collect them and return them to their properly archived location.
Something We Haven't Covered?
Just get in touch if you have some further questions about our document storage service, or hit the button below to start storing with us.